It's faster, smarter, and clearer – Welcome to the new Trolley experience! Currently still in BETA, help us improve by clicking to report any issues.
Crave
Dog Protein Strips With Duck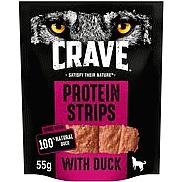 Price Comparison
No shops currently selling this product
Description
Complementary pet food for adult dogs.
CRAVE Protein Strips are High Protein, Grain Free chewy dog treat strips for your dog to enjoy,CRAVE Protein Strips treats for dogs contain no added maize, wheat, soya or dairy.