It's faster, smarter, and clearer – Welcome to the new Trolley experience! Currently still in BETA, help us improve by clicking to report any issues.
innocent
Super Smoothie Berry Protein Strawberry & Cherry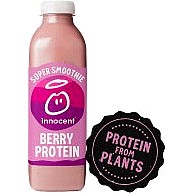 Description
This Innocent Super Smoothie is a Blend of Crushed Fruit, Pure Juices, Coconut Milk and Soya Protein.
Strawberry, raspberry, apple & coconut milk with soya protein,Powered by plant protein,Pasteurised,No added sugar whatsoever - contains naturally occurring sugars,Suitable for vegans.