Asda Groceries, Weekly Offers, And How Tesco Compares
By Saeed Ibrahim – 3rd February 2022
Find out which Asda branded groceries have gotten more expensive
Discover how to find weekly Asda groceries offers
See how Tesco's own brand compares instead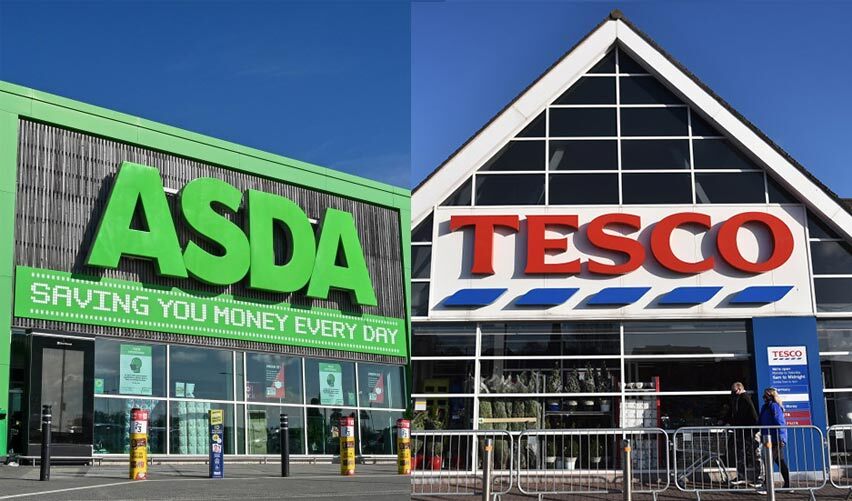 It feels like prices have gone up on everything, doesn't it? I know I'm not the only person who's thought about shifting to own-brand products.



How much can I save by switching to own-brand Asda groceries?
To answer this, I gathered a basket of 12 every day groceries and compared them below - here's the list:


Coffee
Pasta 500g
Multipack Of Crisps
Rice 500g
Baked Beans
White Sliced Bread Loaf
Detergent
Tea Bags
Cereal
6 Eggs
Cheddar Cheese
Toilet Roll




Product

Price

Branded Alternative

ASDA Gold Roast Instant Coffee (200g)

£2.70

Nescafe - £5

ASDA Penne (500g)

£0.70

Napolina - £0.95

ASDA Variety Crisps (6 x 25g)

£0.82

McCoys - £1.75

ASDA Easy Cook Long Grain White Rice (500g)

£1.00

Tilda - £2.19

ASDA Baked Beans In Tomato Sauce (410g)

£0.32

Heinz - £1

ASDA Square Cut Medium White Bread (800g)

£0.58

Warburtons - £1.10

ASDA Sensitive Non-Bio Liquid (54-60 Washes)a

£5.20

Fairy - £6.50

ASDA English Breakfast Classic Black (50 Bags)

£0.89

Tetley - £1.50

ASDA Rice Snaps (340-375g)

£0.90

Kellogg's - £1.99

ASDA 6 Large Free Range Eggs

£1.09

Big 'n' Free - £1.20

ASDA Mature Cheddar Cheese (350-400g)

£1.99

Cathedral City - £3

ASDA Shades So Soft Toilet Roll (4 Rolls)

£1.75

Andrex - £2.25

 

£17.94

£28.43



From a price perspective, it looks like own-brand Asda groceries vs buying branded groceries at Asda is a clear winner coming out £10.49 cheaper (that's over 35% saved).

If you're able to make the switch and save something on a weekly basis, that'll put £545.48 back into your pocket every year.

According to NimbleFins, the average annual food cost for a typical UK household was around £5,028 in 2020. By saving £545.48 a year on your shop, that essentially works out to just over a month of free groceries in comparison.



Not ready to make the switch? Here's how to find weekly offers at Asda
Using supermarket price comparison, discount vouchers, and cashback apps, you'll be able to save on your weekly grocery shop.


Using supermarket price comparison apps

Trolley.co.uk is a UK grocery comparison website (with an available mobile app), comparing prices across UK's largest supermarkets, including Asda, Aldi, Sainsbury's, and Tesco groceries.

Using the popular Daily Deal section, you'll be able to see weekly deals at Asda and find new bargains as soon as they appear. Here's an example: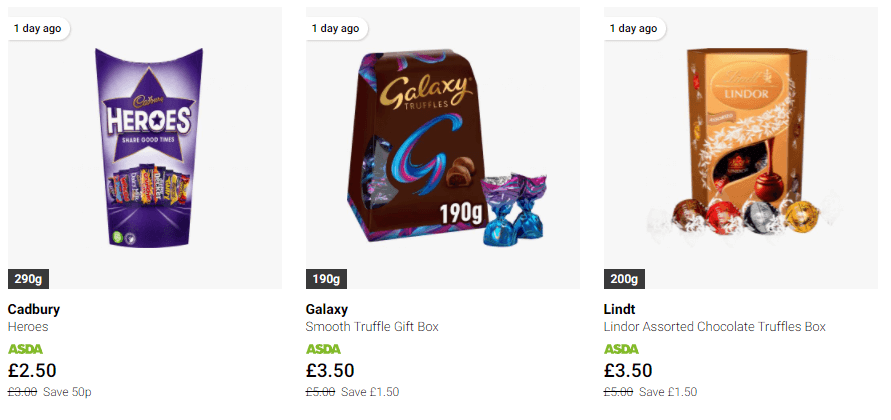 Try it for free here


Discount vouchers and cashback apps Using voucher code websites like VoucherCodes.co.uk, you'll be able to see discount codes to apply to your Asda online grocery basket. However, these aren't very frequent but it's always worth a look!

Cashback apps like Quidco will get you money on your back on your purchases. According to their website, you'll be able to get as much as £7.70 back on your grocery purchases at Asda. Learn more about this over at their website here.



Considering a different supermarket? Here's how own-brand Tesco groceries compare
Tesco and Asda are amongst UK's biggest supermarkets, by switching, you may just get yourself a bargain. Here's how own brand Tesco groceries compare:



Product

Price

Tesco Penne Pasta Quills

£0.70

Tesco Baked Beans In Tomato Sauce

£0.32

Tesco Gold Instant Coffee

£3.00

Tesco White Bread

£0.59

Tesco Easy Cook Basmati Rice

£1.60

Tesco Medium Free Range Eggs

£0.89

Tesco British Mild Cheddar Cheese

£2.00

Tesco Non Biological Liquid Detergent Super Concentrated

£1.75

Tesco Variety Crisps

£0.77

Tesco Rice Snaps Cereal

£0.65

Tesco Finest English Breakfast 100 Tea Bags

£2.40

Tesco Luxury Soft Toilet Tissue White 4 Roll

£1.70

£16.37



There it is, we have a new winner! Although it's close, the basket of Tesco's own brand groceries comes out on top as the cheapest by a steady £1.57. To find out more about which supermarket's cheapest, feel free to visit our comprehensive guide Cheapest Supermarkets In 2022