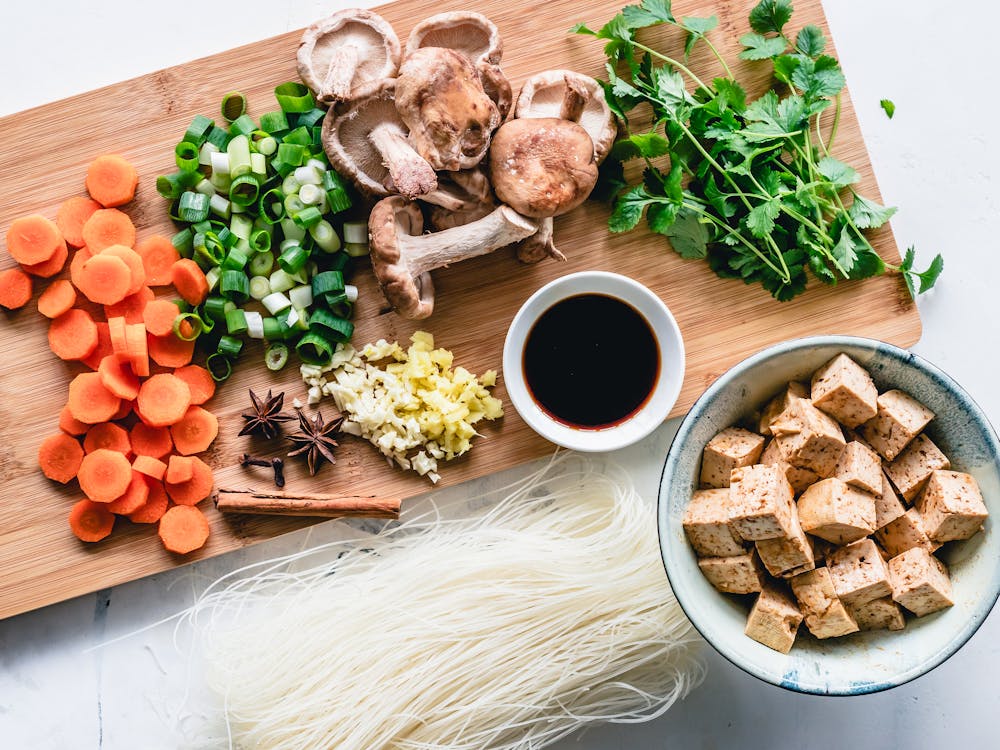 Created with time and health in mind, this recipe is the perfect dish for impressing visiting friends and family - incorporating home favourites with new flavours while staying on a budget of £3.38/person.
Ingredients you'll need
– 1 Tbsp Neutral Flavour Oil
E.g sunflower, groundnut
– 396g Firm Tofu
Drained, pressed and chopped in to 8 pieces
– 4 Spring Onions
Separate whites and greens, both sliced thinly
– 200g Mange Tout
– 1 Medium Carrot
Slice into thin strips with a vegetable peeler
– 300g Mushrooms
White or chestnut, sliced thinly
– 2 Pak Choi
Separate stalks and leaves, both roughly shredded in to strips
– 3 Tbsp Dark Soy Sauce
– 3 Tbsp Light Soy Sauce
– 2 Tbsp Hoisin Sauce
– 2 Tbsp Rice Wine Vinegar
– Pinch of Pepper
– 300g Noodles
Where to buy
Here's a ready made shopping list where you'll be able to find the above ingredients for the cheapest prices
Tofu Chow Mein Shopping List
How to cook
1) Put a wok or large frying pan over high heat and add the oil. When it's hot add the tofu and stir fry until the pieces are golden (takes about 5 minutes) then set then aside on a plate.
2) Return the pan to the heat and add the spring onion whites, mange tout, carrot, mushrooms and pak choi stalks to the pan. Stir fry these for 2-3 minutes until a little wilted, but still crisp.
3) Keeping the pan on the heat, add the noodles, light and dark soy sauces, rice vinegar, hoisin sauce and pinch of pepper to the vegtables and stir through to coat evenly.
4) Continue stir frying for 2-3 minutes.
5) Return the tofu to the pan and add the pak choi leaves, stirring to combine them and heat for a minute or two to make sure everything is piping hot.
6) Serve in bowls with the spring onion greens sprinkled on top.
Voila! Enjoy!