Find out how to switch brands and drive down your Sainsbury's online shopping spend
Discover how to get daily Sainsbury's online shopping offers
Bonus: Explore Click & Collect and Sainsbury's delivery options
Source: Internet Retailing
With so much uncertainty surrounding the rise of energy and food prices, it's important to know how to get the cheapest prices and where to find them.
Inflation is currently at the highest it's been in 30 years which means food prices are climbing and it's becoming more and more important to know how to get the most for your money. Read on to find out how to drive down your Sainsbury's bill, find the latest offers, and more.
Bringing down your Sainsbury's prices
First and foremost, you'll want a Nectar card. It's free and although it takes a few steps to sign-up with, the benefits are long lived and over time, you'll receive rewards for the shopping you would've done anyway!
Switching to Sainsbury's own brand
By switching to own brands for some of your weekly groceries, you're looking at saving quite a bit. By
switching to own brand at Asda
, we found you could save over 35% on your weekly shop and pocket £545.48 a year.
Here's a basket of 12 every day groceries which I've compared prices for below – here's the list:
Instant Coffee
Pasta 500g
Baked Beans
White Sliced Bread Loaf
Tea Bags
Cereal
6 Eggs
Cheddar Cheese
Toilet Roll
Rice 500g
Multipack Of Crisps
Grocery
Price
Branded Alternative
Sainsbury's Gold Roast Instant Coffee 200g
£3.25
Nescafe – £5
Sainsbury's Stars Pasta 500g
£0.70
Napolina – £1.30
Sainsbury's Hubbard's Foodstore Baked Beans In Tomato Sauce 400g
£0.21
Heinz – £1
Sainsbury's Daily's Medium Sliced White Bread 800g
£0.36
Hovis – £1.10
Sainsbury's English Breakfast Tea Bags Taste the Difference x80
£2
Tetley Original – £2.40
Sainsbury's Frosted Flakes Cereal 500g
£1
Kellogg's – £2
Sainsbury's Woodland Free Range Medium Eggs 6x
£1
Happy Egg – £1.50
Sainsbury's British Medium Cheddar Cheese 400g
£2
Cathedral City (350g) – £3.75
Sainsbury's Super Soft Coconut Toilet Roll 4x
£1.90
Andrex – £2.95
Sainsbury's Basmati Rice 500g
£1.10
Tilda – £2.90
Sainsbury's Classic Variety Assorted Crisps 22x 25g
£2.75
Walkers (Meaty Variety 24x) – £4
£16.27
£27.90
All-in-all, switching from branded to own-branded at Sainsbury's is a clear winner working out to £11.63 cheaper (that's 41.7% less).
According to NimbleFins, the average annual food cost for a typical UK household was around £5,028 in 2020.
By making a full switch, you could be looking to save thousands! But let's be realistic and we switch out just a handful per shopping trip, that could still very easily amount to £500+ every year.
Here's how to find daily Sainsbury's online shopping offers
By using grocery price comparison apps, discount vouchers, and cashback apps, you're definitely looking to save on your weekly grocery shop.
Try using supermarket price comparison apps
Trolley.co.uk is a UK grocery comparison website (with an available mobile app), comparing prices across UK's largest supermarkets, including Asda, Aldi, Sainsbury's, and Tesco groceries.
Using the popular Daily Deal section, you'll be able to see weekly deals at Sainsbury's and find new bargains as soon as they appear. Here's an example: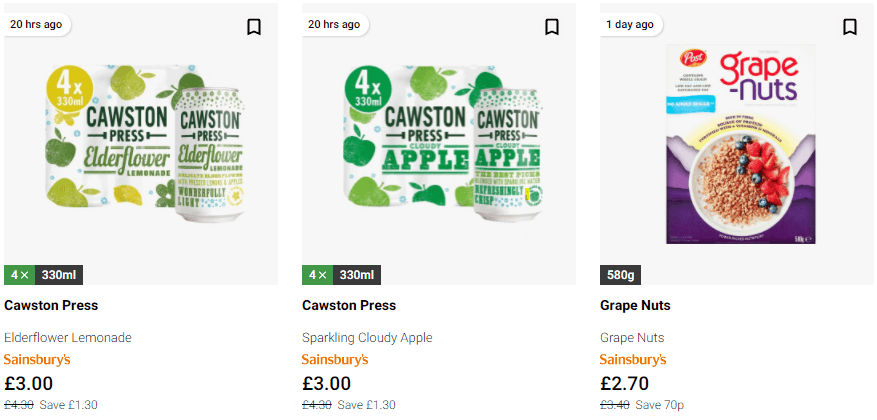 Try it for free here
Cashback offers
Cashback apps like Shopmium and Quidco could set you up for some reimbursement on some of your supermarket groceries - with as much 100% for some groceries.
There are also great joining benefits like Shopmium's bonus of 100% cashback on a nice treat (imagine free ice cream just for signing up). Plus, there's always an awesome £3 credit for referring a friend.
By using multiple supermarket cash-back apps, you might be able to find exclusive bonuses for Sainsbury's so sign up to many as you can!
Click & Collect and Sainsbury's delivery options
By planning meals a week before you make them, you'll be able to order groceries beforehand which means you'll now be able free to choose whichever delivery slots you need. By choosing an off-peak time (typically weekdays) and avoiding evenings and weekends, you're looking to save with each delivery.
For frequent online shoppers, by saving £2-3 a week on deliveries, you could be looking at saving £100-£150 a year. To learn more about delivery passes and typical delivery prices, check out
our guide to online supermarket deliveries
.